Bottle Breakers
A useful addition to any recycling yard - large or small - is a reliable and high capacity Glass Bottle Breaker.
Hydra-Pac Waste Systems manufacture a range of Glass Bottle Crushers to your requirements. Should you need a single machine to sit on top of a 205 Litre drum, like the picture shown, or a unit running along a track over multiple bins, Hydra-Pac Waste Systems has the unit for you.
These machines are available in single phase electric or can be fitted with a small petrol engine enabling you to take it anywhere. No need to take expensive electrical connections to the back of your yard.
One of the best things about these machines is that not only will they handle whole carton loads of bottles and jars at one time, but it also smashes the bottles to approximately 50mm diameter. This enables the glass merchant to still see the colour of the glass and rewards you with the best price for your product.
Bottle Crushers can be modified to suit any customer requirement. For more information on this and other machinery, please go to the Contact us page and send us an email with YOUR needs.
BB1200S
The bottle buster BB1200S is a versatile mobile unit that can be situated on top of a 205 litre drum or set up on rails over cullet bins or bays. The unit can easily be handled by two people, enabling it to be moved wherever needed. The wide hopper opening allows for easy dispensing of complete containers of bottles and glass jars for culleting.
Specifications
Electric Motor
Single Phase, 240Volt, 50Hz - or
1.1kW, 3 Phase, 415Volt, 50Hz
Capacity
3 - 4 Tonnes / hr
Cullet Size
As required by ACI
Dimensions
970 H x 960 D x 730 W
Weight
Approx. 80kg
BB3800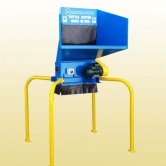 The bottle buster BB3800 is the Medium size unit in our range and is designed for higher volumes. This unit can be mounted on stands over cullet bins and bays. The unit will be fitted with a hopper opening (1200mm long x 700mm wide) allowing for fast conveyor feeding or dispensing of complete containers of bottles and glass jars for culleting.
Specifications
| | |
| --- | --- |
| Electric Motor | 2.2Kw, 415Volt, 3 Phase |
| Capacity | 5 - 7 Tonnes / hr |
| Cullet Size | As required by ACI |
| Weight | Approx. 175kg |
BB4500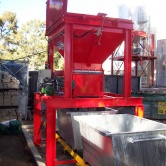 The BB4500 is the largest unit in our range. Mounted on a stand over a cullet bin and fitted with a 1.6 x 1.6 hopper, the top frame of the loading chamber will be reinforced with channel iron to handle the rigours of unloading the bins and fitted with hydraulically operated split lids. The bottom of the loading hopper will have a hydraulically operated shuttle plate to regulate feeding product into the breaking chamber and prevent jamming, The processed product is collected underneath the breaker in a series of shuttle bins running on rails - the bins can be manoeuvred under the breaking chamber to regulate feed or change from colour to colour. The cullet bin, as well as having wheels, has fork slots enabling the operator to load and remove bins for draining/storage. There is also the option of a remote control to operate the breaker.
Specifications
| | |
| --- | --- |
| Electric Motor | 4Kw, 415Volt, 3 Phase |
| Hydraulic Power Pack | 2.2Kw, 415Volt, 3 Phase |
| Capacity | 9 - 15 Tonnes / hr |
| Cullet Size | As required by ACI |
| Weight | Approx. 600kg |
| Expected Decibel Level | 95 - 100C at approx. 1 Metre |